Back to AM Stereo Tech Zone Home Page
---
AM Stereo Hardware Mods
---
MC13028 Adapter Uses a surplus ±7.5KHz 6 element ceramic filter from a cordless phone. An adjustable LC PLL Osc. NRSC De-Emphasis. 10KHz Notch Filter. Low Pass Filter with a +9dB High Frequency Boost.


---
TM-152 Mods Added a window detector on the PLL loop volts for a center tuning indicator mounted on the dial indicator . Added 10KHz notch filters and 6dB buffer amp.Added wide and narrow IF filter selection via the mono/stereo switch for a ±7.5KHz and ±3KHz selection. Added synchronous detection for L+R and disabled cosine correction for L-R for true QuAM fixed at 90°. This can be overridden via a switch on back to select between QuAM and C-QuAM.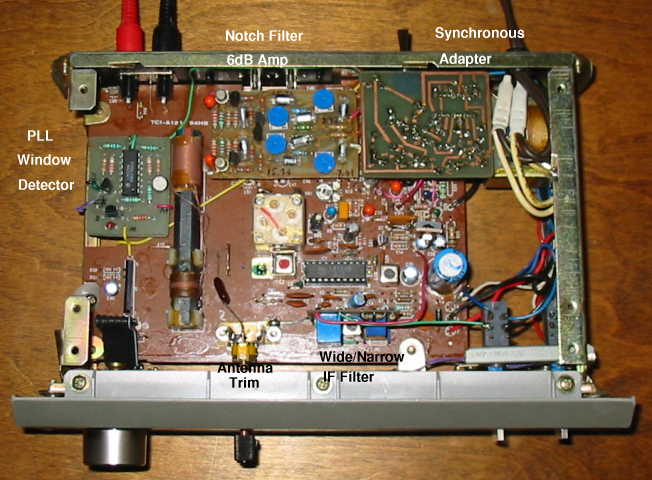 ---
Pioneer SX-2600 Designed and Built a MC13020P decoder that has a ±7.5KHz 6-element filter with AGC. Pilot filter circuit has a 3rd order lowpass filter at 40Hz for good co-channel sensing with good rejection of the regular L-R signal. The pilot bandpass filter has a Q appraching 10 and a gain appraching 25. Post detection has 10KHz notch filters and 2nd order lowpass filters providing a boost of 7dB at 8.7KHz to help compensate for HF attenuation caused RF and IF filter response. Later I addd a synchronous adapter to it. This particular unit made it difficult to interface the decoder since the mono AM signal passed through the FM stereo decoder chip so I had to use a CMOS Quad Analog DPDT Switch to overcome this. Iterfaced the mono/stereo button for FM to also work on the AM stereo decoder. Interfaced the STEREO ID in the florescent display to the AM stereo decoder.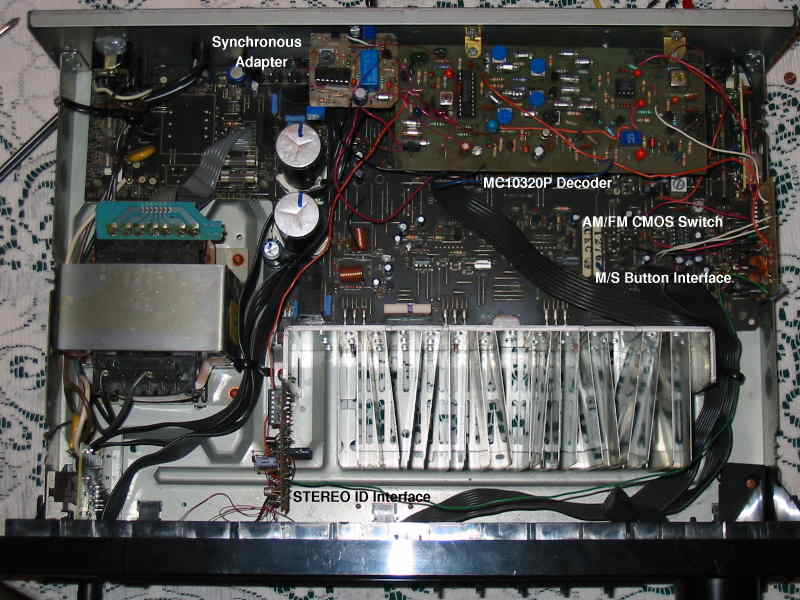 ---
Basket Woven Ferrite Bar Antenna. This type of winding is said to improve the quality of the inductance.

---
Built a Homemade Select-A-Tenna using a heavy duty 10" embroidry hoop, an air core tuning capacitor, #19 enameled wire, some wood and cardboard for the pointer.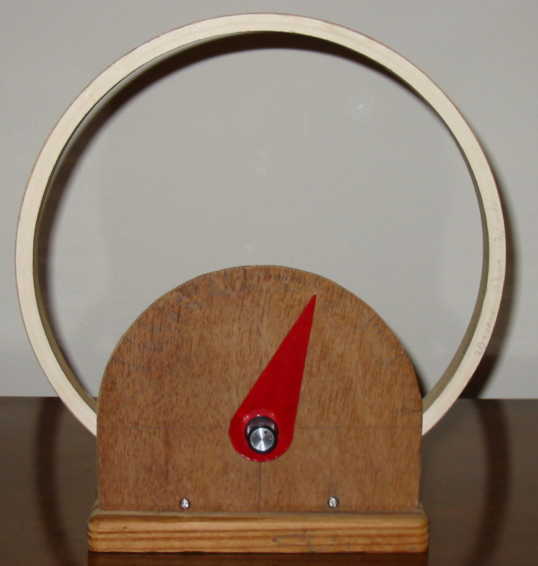 ---
© Copyright 2002 - J. S. Gilstrap